December 1st 2009
08:00 pm > NOWHERE (Paris Time)
on beradio.net
(+ on rotation all december long on be.radio)
here on this blog before christmas day...
... the real end of a 3 years mounthly adventure !
I WILL COME BACK STRONGER !
HOSTED BY gertrud, lektrik, kicklynx & matthieu ANDREW
H2H4U GUESTS :
ANNA LOGUE RECORDS
MARC SCHAFFER / ANNA LOGUE RECORDS Interview & Commented tracks
KAN3DA
TRANSIENT FORCE swan LIVE
matthieu ANDREW
re-birth mixed playlist
of course I will put some nice tracks between each parts !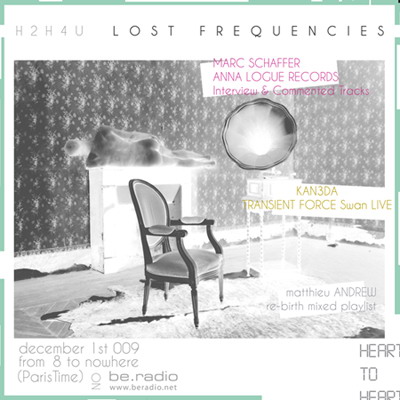 H2H4U LOST FREQUENCIES (09/12) more infos :
http://h2h4u.blogspot.com/2009_12_01_archive.html